Description
The refrigerator is suitable for use as a milk cooler for coffee makers. Supply tubes for espresso and coffee makers can be fed through the holes in the sides of the appliance. The cooling device is also suitable for cooling and heating foodstuffs. There is a switch to change between heating and cooling modes. The cooling device is intended to be used in household and similar applications such as staff kitchen areas in shops, offices and other working environments, farm houses, clients in hotels, motels and other residential type environments,  bed and breakfast type environments, catering and similar non-retail applications.
Clean chic: milk cooler /mini refrigerator for semi-professional use
The refrigerator can cool products to a maximum of 30°C  under ambient temperature or warm them to a maximum of 65°C. A partition can be used to separate foodstuffs, such as drinks and fruit.
For the "Cold" mode, the lowest temperature is 4°C to avoid food and drink from getting freeze.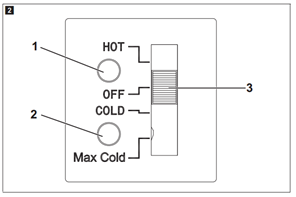 For the extra "Max Cold" mode, the refrigerator will keep cooling to maximum of 30°C under the ambient temperature. The food and drink can be frozen depends upon the ambient temperature.
Elegant milk cooler for commercial use and office use
For coffee machines with self-priming pump and nozzle for cappuccino
For using with up to two 1 litre bags of milk
Sealed openings for milk tube on both sides
Interior lighting inside
The appliance usually runs on the 100-240V AC adapter